3 March 2020
Kelton R. Minor receives the EliteForsk Travel Grant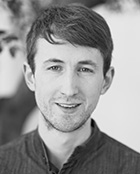 Kelton's PhD project examines measurements of the hidden human cost of climate change using big data. The EliteForsk Travel Grant will be used for research stays at Stanford and Berkeley. 
What is your PhD project about?
What should the price of CO2 be? Setting a price for CO2, which includes the impact of climate change on societal and ecological systems, is among the most pressing challenges of our time. New research tools are needed to assess the causal effect of climate change on human behavior and health. By combining advances in the fields of climate statistics and computational social science, I analyze digital footprints from mobile devices and social data to quantify the impact of both extreme weather and rising temperatures on society.
How did your interest in your field of research arise? And what motivates you?
Although we live our lives in different environments, we know far less about how the climate affects our well-being compared to other social factors. I believe that new digital methods and massive datasets can help researchers and policy makers to better understand how climate change impacts our behavior and health. This knowledge can help improve policy initiatives aimed at climate adaptation as well as planning and design decisions aimed at reducing the impact of man-made climate change. 
What are the research challenges and perspectives of your project?
It has previously been difficult to identify the causal effects of climate and the natural variation in weather due to the limited spatial and temporal aspects of survey and registry data. New, better quality data from digital technologies enable researchers to definitively isolate and study how human behavior dynamically responds to extreme events, natural weather variation, and longer climate change trends. My project explores the potential of using anonymized data sets from mobile phones, healthcare devices and other connected technologies to contribute to our knowledge of human-climate relations.
What does an EliteForsk travel scholarship mean for your future opportunities?
Thanks to the EliteForsk travel scholarship, I will be able to travel to Stanford University for seven months, followed by a three-month residency at the University of California, Berkeley. These experiences will enable me to expand my methodical and theoretical skills with some of the world's best climate economists and statisticians. I look forward to integrating these experiences with my PhD project at the University of Copenhagen's Center for Social Data Science.
The man behind the researcher?
I grew up at the foot of the Rocky Mountains in Boulder, Colorado, as the son of a geologist and of a folk artist, so I've always seen the world through both the lens of science and the arts. I spend my free time pursuing my hobbies in photography and filmmaking. For the past year, I have been fortunate to be able to combine these passions by filming interviews as part of the Greenlandic Perspectives Survey - a national survey of residents' views on climate change across Greenland.
About the EliteForsk travel scholarships
Read more about the scholarships and see the other recipients here (in Danish).